GlobalGiving Update and How You Can Still Help
This year, Bumi Sehat embarked on a new initiative with GlobalGiving, a nonprofit organization that provides a global crowdfunding platform for charitable projects.
We weren't sure what to expect. We just knew that in these challenging times when many of our donors large and small faced so much uncertainty and hardship due to the global pandemic, we needed to be more creative than ever to keep our mission alive at Bumi Sehat. Through GlobalGiving, meeting certain financial goals means our fundraising efforts are amplified, helping us receive additional funds from the platform, above what is donated purely from crowdsourcing efforts.
It has become a key source of funding this year. Thanks to you and our new friends over at GlobalGiving, we secured some $75,000 in funds to support lab equipment, testing, protective gear, maternity services and more.
While we still have a ways to go to meet our goals, our hearts were overjoyed by the response we received. This could not have happened without your generous donations and support. We are so grateful for your help in these challenging times!
HOW IT HELPS
It started with a small ask. We desperately needed a new microscope, lab reagents to provide required HIV screenings to expectant moms, a stock of Covid-19 rapid tests for labouring moms as newly mandated by the government, and vital protection gear for our staff so they minimize their risks of being exposed to COVID-19.
Our first campaign in September exceeded our goals and secured us an extra $5,000 grant from GlobalGiving. We used these funds to ensure that our clinics have ample stock of COVID-19 rapid tests and PPE to protect our patients and our staff until well into 2021.
Because of the success of the first campaign, we were eligible to participate in GlobalGiving Day in early December. We are delighted to have secured more than $50,000 in that and earn a spot as a permanent partner with GlobalGiving.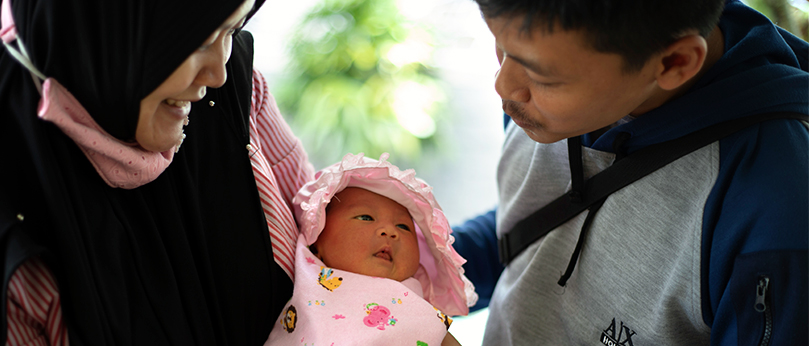 Open Campaigns
If you missed the small giving windows for our first two campaigns and still want to give, you can still contribute. Our most recent campaign to deliver pandemic maternal care in Bali had a big single-day goal and we had great success in such a short window, but it is not over yet. This is still an active campaign, and we will continue to march toward our $100,000 goal.
Smaller campaigns that also need support include separate fundraising efforts for our clinics in Papua and Lombok.
Papua campaign: This campaign for indigenous women at our clinic in Papua, where women have the worst maternal health outcomes in Indonesia. Women here not only live in remote villages, they have epidemic levels of HIV and syphilis and often experience trauma and discrimination when they seek medical care. Because of the discrimination they face during first pregnacies, they are more likely to avoid medical care for subsequent pregnancies and instead relky on family members and unskilled birth attendants, with poor outcomes. This campaign helps support culturally sensitive and safe births for the communities which our Papua clinic serves. It has a $19,200 goal and is well short of its goal.
Lombok campaign: This campaign is for disaster relief services following the 2018 earthquake that left 417,000 people displaced or homeless. Compounded by the effects the pandemic has had on tourism, the local economy is devastated. People can not afford food, basic goods or healthcare. Many are still living in tents, two years later. Lombok is our newest clinic, but needs additional funding to support is mobile outreach program, provide maternal health and birth services, treat physical injuries and trauma counseling, and support basic necessities like clean water filters and mosquito nets.
Final Note
These are challenging times, and it feels hardest of all to ask for your support when suffering is so pervasive across the globe.